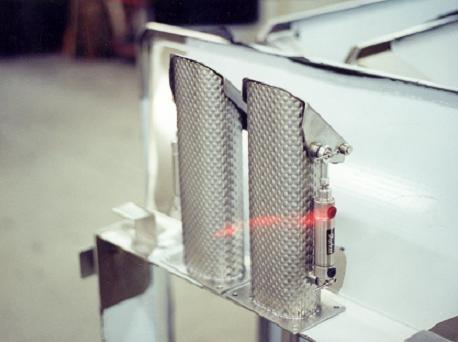 That's Our Bag Corporation thanks you for visiting! Feel to browse around our new website! For products and services we offer, click on the link to your left and peruse the image gallery! New products are added often!

About Us
That's Our Bag was started in 1989 by George Poole and Dan Free, two mechanical specialists with one common goal: use their skill and expertise to craft excellent stainless steel products for whatever needs their customers have. From the corporation's inception, they have been able to create several unique and interesting products, starting with their bag formers. The bag formers that they design and manufacture, produce bags at astonishingly high speeds.
After word spread of their design technique, business channeled into every and all types of stainless work. Stainless formers, hoppers, baskets, tubing, conveyors, cabinets, totes, funnels, breading and skinning equipment, and most proudly, USDA and WDA approved dairy equipment.
That's Our Bag goes well beyond their regular stainless duties though. They are also very well known for bringing old, outdated stainless equipment back to state approval. Click the link on your left called "Custom Projects" for more pictures of special jobs they have done!
This is mainly a research and development company, and with 161 years of experience between three stainless steel specialists, you can rest assured that a job in our bag is a job well done.

Contact Information
Interested in our products?
Questions? Problems? Ideas?
Call, fax, or email us, and we will respond as quickly as we can!
Telephone

(920) 684-0120

FAX

(920) 684-5342

Postal address

2820 Basswood Rd. Manitowoc, WI 54220

Electronic mail

General Information: thatsourbagcorp@hotmail.com

Webmaster: chadwick_1892@hotmail.com